Ultra Precision Products
202TG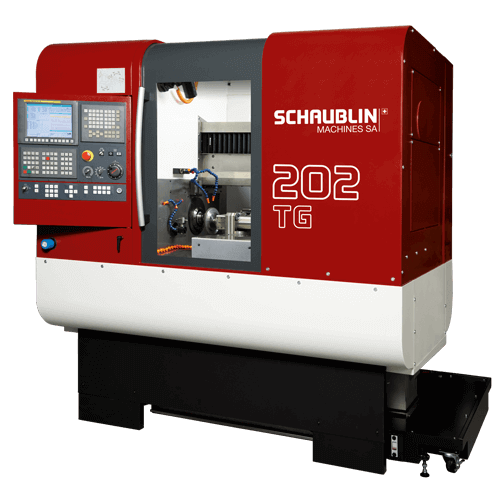 Machining Capability
Turning and Grinding Center
Application
Aerospace
Automotive
Cycling
Consumer Electronics
Micro Mechanic
Equipment
Metal Hardware
Medical
The 202TG range of modular machines with configurations that offers both solutions in budget and versatility for the exacting needs of the end user in targeting high precision components that require turning, hard turning, grinding, internal and external milling, cross drilling and tapping. The 202 TG enables Schaublin Machines to present a solution for either high production environments as well as small batch or prototype high precision machining.
Up to 8 simultaneous axis

Heindenhain glass scales on all linear axis

12 station turret VDI 16-6 driven tools 6,000 rpm

Minimum floor space compact design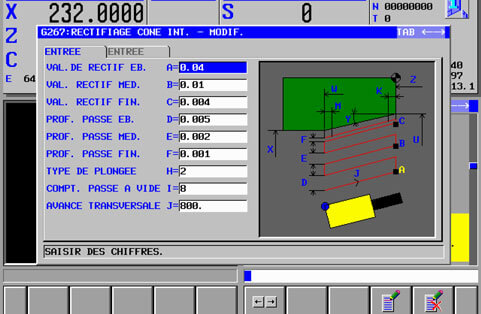 Programming Assistant (Option)
Special CNC page for the fix parameter and programming cycles. Also, different cycles will be made according to the customer application request.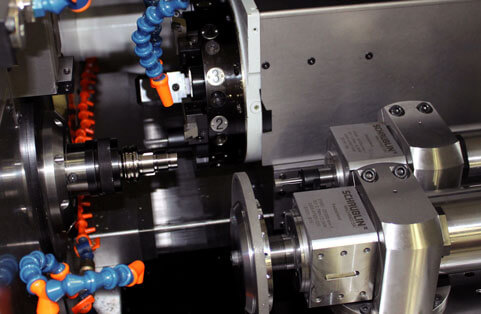 High Speed Spindle Technology
Internal grinding spindles up to 60,000 rpm
External grinding spindles up to 25,000 rpm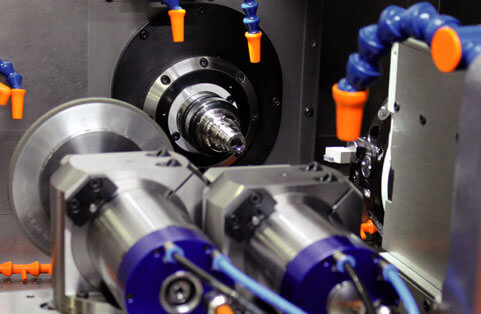 Hrc 65
Suitable for hard turning 65 Hrc
Generating a surface of Ra= 0.1
Specification
ITEM
202TG
Machining Capacity
Maximum turning diameter
80 mm
Maximum turning length: W25
150 mm
Headstock W25
Spindle for "Schaublin" collets
W25
Spindle speed
50 - 7000 min-1
Power continuous / intermittent
5/6 Kw
Torque continuous / intermittent
26.1 / 35.1 Nm
Maximum throughbore with collet
19 mm
C Axis
YES
Carriage
Stroke X1, X2 / Z1, Z2 axis
150, 150 / 300, 300 mm
Resolution, X-axis (on radius)
0.0005 mm
Feed rate
Working feeds, X & Z axis
8 / 8 m/min
Tailstock (Option)
Spindle taper
MORSE 2
Stroke
660 mm
Tooling system: Revolver (Option)
VDI 16
Maximal speed
6,000 RPM
Power continuous / intermittent
1 / 1 Kw
Torque continuous / intermittent
3 / 7 Nm
Grinding spindle (Option)
Maximal speed
25,000 / 60,000 RPM
Power continuous / intermittent
7-9 / 6-8 kW
Torque continuous / intermittent
2.7-3.5 / 1-1.3 Nm
The 202 TG High Precision Lathe is in conformity with the European Community safety regulations. In view of the constant improvements made to our products, technical data illustrations, dimensions, and weights appearing in this catalogue are subject to change without notice.
Would you consider customising machines?
Leave us a message. We will present our offer to you.
Contact Us