Ultra Precision Products
302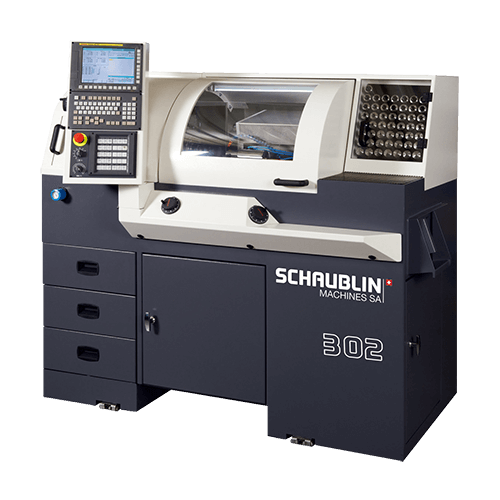 Machining Capability
Turning and Grinding Center
Application
Aerospace
Automotive
Medical
Micro Mechanic
The 302 unit's compact size and flexbility guarantee economic small and large scale production runs! The 302 unit combines modernity and traditioin, with the Fanuc 0i TF control system for automated mass production.
Space saving design

Max. use of C axis is 20%

High precision production lathe with FANUC digital control

Machine fitted with coolant supply system and 55 l. tank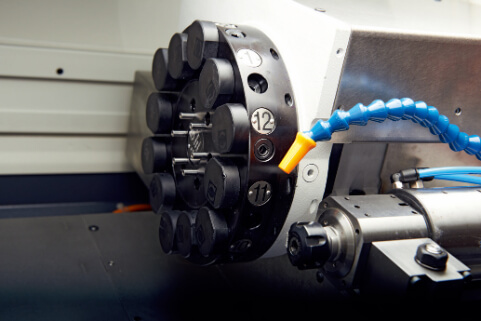 SAUTER VDI 16
The compact precision revolver unit has 12 stations SAUTER VDI 16. They all have coolant supply from the centre and 6 driven positions.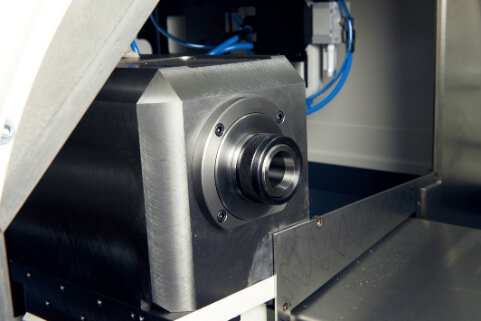 High Precision Spindle
The high precision spindle has an integrated motor. Available on the W20 and W25 versions. Pneumatic clamping is possible as an option.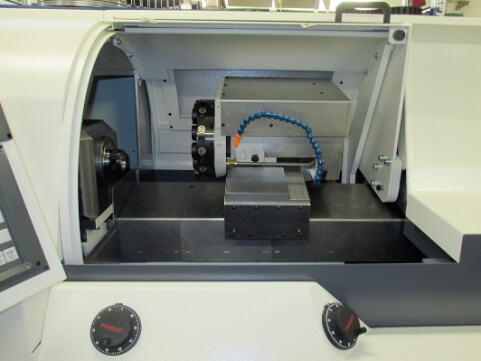 Working Area
Large access hatch for simple and easy access to the working area. Robotic part loading available as an option.
Specification
302
Machining Capacity
Height of centers over carriage
200 mm
Maximum turning diameter
X: 460 mm/ Y: 610 mm (+305 ~ ‐305)/ Z: 510 mm
Turning length with collets W20/W25
200 mm
Distance between centers
220 mm
Headstock
Spindle for "SCHAUBLIN" collets
W20 / W25
Spindle speed
50 - 8000 min¯¹
Power continuous / intermittent
7.5/ 9 kW
Programmable increment
0.001°
Spindle throughbore with clip (without drawbar)
17mm / 21mm
Maximum throughbore with collet W20/W25
W20:14.5 mm / W25:19 mm
Pneumatic clamping (option)
Adjustable axial clamping force, at 5 bars
500 daN
Maximum spindle speed
140 mm
Carriage
Transverse stroke, X-axis
6,000 min¯¹
Resolution, X-axis (on radius)
0.00005 mm
Ball screw, Ø x pitch
20 x 4 mm
Longitudinal stroke, Z-axis
240 mm
Resolution, Z-axis
0.0001 mm
Ball screw, Ø x pitch
20 x 4 mm
Rapid feed, X- and Z-axis
16 m/ min
Tooling system: Linear
Number of radial toolholder (according to Ø of the piece)
2
Number of frontal toolholder (according to Ø of the piece)
2->5
Maximum tool size (MULTIFIX/ SMSA)
12 x 12 mm
Milling and Grinding attachment (options)
Yes
Clamping tools for collets
ESX 20 / ESX 9
Tailstock operated with screw (option)
Spindle taper
MORSE 2
Stroke
235 mm
Possibility of the motorized tailstock
Yes
Revolver (option)
Number of tool station
12
Number of rotating tool station
6
Standardized fixing of toolholders
SAUTER VDI 16
Maximal speed
6000 min¯¹
Power continuous/ intermittent
1/ 1.3 Kw
Torque continuous/ intermittent
3/ 7.5 Nn
Coolant supply (option)
Tank capacity
60 l.
Pump capacity
40 l/min
Pump pressure
1.5 bars
Dimensions and weight
Approximate net weight of the machine
1,100kg
Overall dimensions in mm L x D x H
1,795 x 969 x 1,485
The 302 High Precision Lathes are in conformity with the European Community safety regulations (CE). In view of the constant improvements made to our products, technical data, illustrations, dimensions and weights appearing in this catalogue are subject to change without notice.
Would you consider customising machines?
Leave us a message. We will present our offer to you.
Contact Us