Ultra Precision Products
225TM-CNC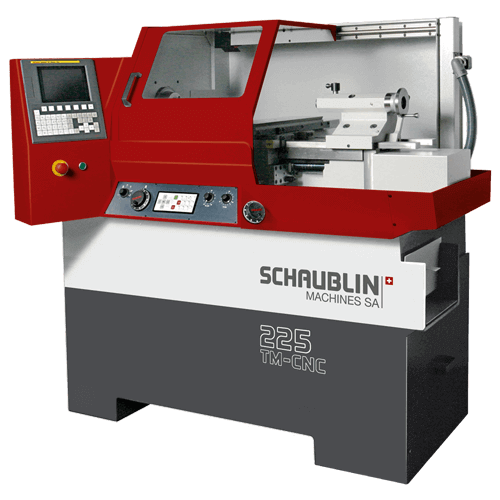 Machining Capability
Hard Turning
Turn Mate
Application
Automotive
Medical
Micro Mechanic
Equipment
High-precision lathes with numerical control by Fanuc. Like a conventional lathe, these machines can be operated by means of handwheels or they can be controlled numerically. The Turn Mate function is very easy to use and does not demand ISO programming knowledge. D1-3 spindle nose. These lathes are ideal for hard turning.
Thread cutting up to 2,000 rpm

Free figure (max. 30 blocks)

Tread correction

Grooving with radius or chamfers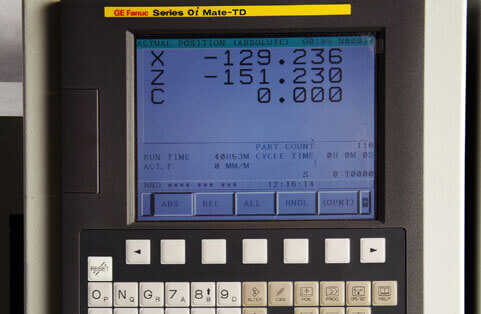 CNC-Turning as Simple and Flexible as Conventional Turning
The CCN (conventional control numerical) lathe combines the advantages of a numerical control and the simplicity of a conventional lathe.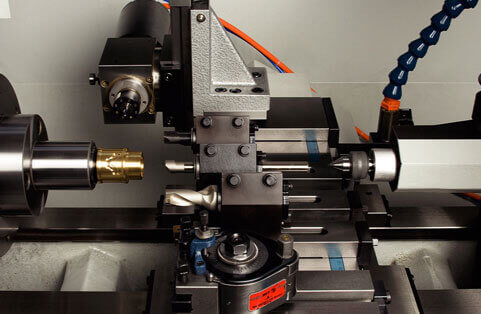 High Speed Spindle Technology
The machine features spindle technology up to 50-5,000 rpm.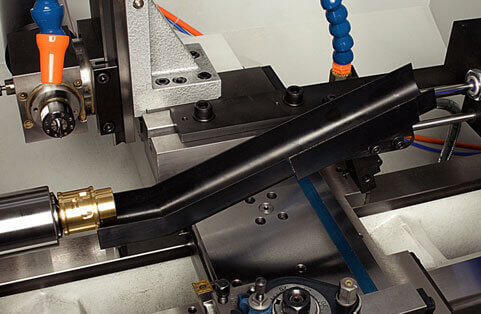 Hrc 65
Suitable for hard turning 65 Hrc
Generating a surface of RA= 0.2~0.4
Specification
ITEM
225 TM CNC
Machining Capacity
Height of centres over bed
125 mm
Height of centres over carriage
60 mm
Maximum turning diameter
270 mm
Maximum swing over carriage
115 mm
Turning length with collets
409 mm
Headstock CAMLOCK D1-3
Spindle for SCHAUBLIN collets
B32
Spindle speed
50 - 5000 min-1
AC motor drive:Power continuous/ intermittent
3.7/5.5 kW
Programmable increment
‐
Spindle throughbore (without drawbar)
28 mm
Spindle throughbore with collet
24 mm
Carriage
Transverse stroke, X-axis
136 mm
Resolution, X axis (on-radius)
0.0005 mm
AC motor drive: Continuous/ intermittent torque
7 m/ 15 Nm
Longitudinal stroke, Z-axis
410 mm
Resolution, Z- axis
0.001 mm
AC motor drive, continuous / intermittent torque
7 Nm/ 15Nm
Feeds
Working feeds, X- and Z-axis, stepless
0-5 m/min
Rapid feed, X- and Z-axis
10 m/min
Tooling system: Linear
Number of radial toolholder (according to Ø of the piece)
2
Number of frontal toolholder (according to Ø of the piece)
2~5
Maximum tool size (MULTIFIX / TRIPAN / SMSA)
16 x 16 mm
Milling and Grinding attachment (options)
20 mm
Clamping tools for collets
ESX 20/ ESX9
Screw-type tailstock
Internal taper of the sleeve
MORSE 2
Spindle OD
35 mm
Spindle stroke
100 mm
Tank with coolant
Tank capacity
55 l.
Pump displacement capacity
10 l/min
Pressure of waterning pump
1.7 bars
Dimensions and weight
Approximate net weight of the machine
1,200 kg
Load floor
1,750 kg/m²
Load floor
1,660 x 1,200 x 1,630 mm
The 225 TM-CNC High Precision Lathe is in conformity with the European Community safety regulations. In view of the constant improvements made to our products, technical data illustrations, dimensions, and weights appearing in this catalogue are subject to change without notice.
Would you consider customising machines?
Leave us a message. We will present our offer to you.
Contact Us