Vertical Machining Center
MV300 / 500 / 700#40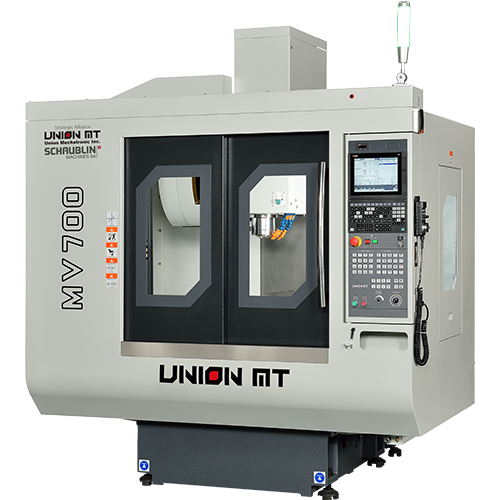 Machining Capability
Drilling and Tapping
Application
Aerospace
Automotive
Consumer Electronics
Micro Mechanic
Medical
Compact MV 300/500/ 700 high performance series features the largest working range with compact footprint design. The surperior accuracy and reliability from excellent scrap skill are suitable for high precision milling machining.
High acceleration rates 1.5 G

Machine stiffness >
2.5 kgf/um

60 m/min rapids

Spindle technology up
to 15,000-40,000 rpm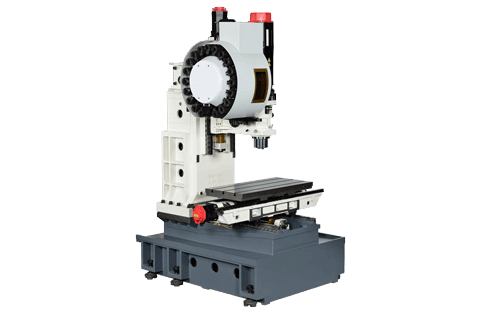 Robust Machine Structure
Symmetrical headstock and enhanced ribs design to reduce vibrations, termal displacement and cutting stability.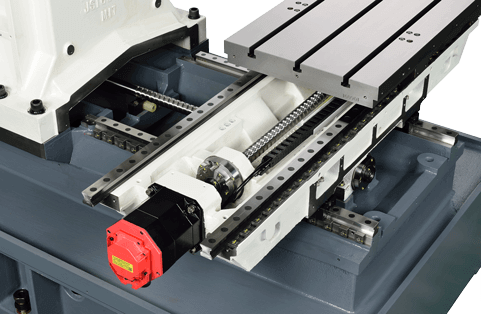 Soild Transmission Structure
X, Y and Z axes feed mechanism are direct driven to assure the transmission efficiency and high precision. C1 ball screw provides superior positioning accuracy without backlash errors.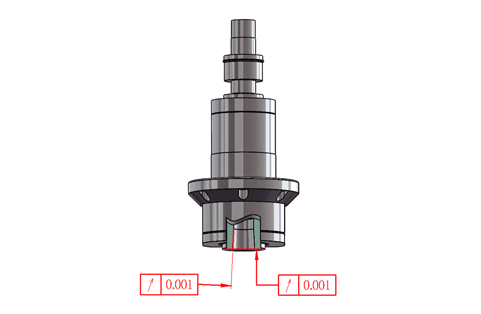 Reliable DDS- Direct Drive Spindle
Spindle nose run out 0.001 mm and 0.006 mm at measuing length 250 mm of test mandrel.
Specification
ITEM
300P
500P
700P
Working Range
Travel X/Y/Z
300 x 400 x 450 mm
500 x 400 x 450 mm
700 x 400 x 450 mm
Travel X/Y/Z
130~580 mm
Table size
650 x 410 mm
750 x 410 mm
850 x 410 mm
Table load capacity
250 kg
280 kg
300 kg
T slot width/ qty/ pitch
14 mm/ 3/ 125 mm
Main Spindle
Spindle type
BBT 40, Coupling
Max. spindle speed
10,000 rpm
12,000 rpm
15,000 rpm
Max. spindle output*¹
11 Kw (S3-15%)
11 Kw (S3-15%)
13 Kw (S3-15%)
Max. spindle torque
70 Nm
70 Nm
41.1 Nm
Automatic Tool Changer
Magazine pots
20
Max. tool adj. w/o tool
75/ 150 mm
Max. tool length
200 mm
Max. tool weight
6 kg
CTC time
3.5 sec.
ISO 230-2
Positioning/ Repeatability
0.006/ 0.004 mm
Coolant System
Coolant tank capacity
200L
Nozzle coolant & flush pump
70L/ min 4 bar
Lubricantion
Spindle
Grease
Machine Size
Height
2,500 mm
Width x depth
1,560 x 2,891 mm
1,560 x 2,891 mm
2,100 x 2,891 mm
Weight
3,000 kg
3,100 kg
3,400 kg
-Two faced contact tools are needed to get better cutting capability.
-Actual values may differ from the specification in the catalog caused by optional and peripheral accessories.
*Please be aware of the continuous performance improving policy, UnionMT reserves the rights to change product specifications, data, options, appearances and etc. without notice.
Would you consider customising machines?
Leave us a message. We will present our offer to you.
Contact Us